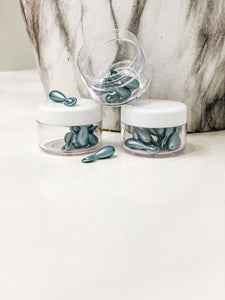 10 Pack of Tru Face Essence Ultra Beads 
ageLOC targets the sources of aging to preserve the look of youth and reduce the appearance of aging.
Specially formulated with Tru Face FirmPlex to deliver visibly firmer skin than ever before.
Now formulated to help smooth the appearance of facial contours and create the look of refined, sculpted definition.
Helps visibly lift and firm skin and improve elasticity and bounce for a healthier, more youthful, lifted look.
Defines skin around the eyes, neck, chin, mouth, and jawline for a beautifully contoured appearance.
Visibly reduces lines and wrinkles to achieve a younger look.
Now with 10% more product in each pearl to ensure your jawline gets attention.
Goes on smooth for easy application and even coverage.