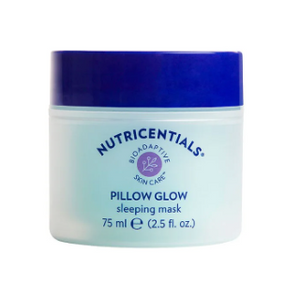 • Made with bioadaptive botanicals, known as adaptogens, that help your skin adapt to its environment.
• A clean formula with worry-free ingredients you can feel good about putting on your skin.
• Protects against, and increases resiliency to, the damaging effects of stress, pollution, and free radicals.
• Helps improve the look of dull, uneven, stressed, and tired skin caused by daily stressors, including blue light exposure.
• Provides immediate hydration and 24 hours of continuous moisturization.
• Increases moisture by 150% overnight, for skin that looks and feels smooth and supple.
• Proven to increase glow, radiance, and luminosity overnight, so skin looks brighter and healthier the next morning.
• Reduces signs of fatigue, so skin looks rested and refreshed.
• Reduces the appearance of pores.
• Supports skin' s natural moisture barrier to help replenish and retain moisture.
• Supports skin' s overnight recovery process with rejuvenating hydration.
• Replenishes essential minerals that are depleted throughout the day